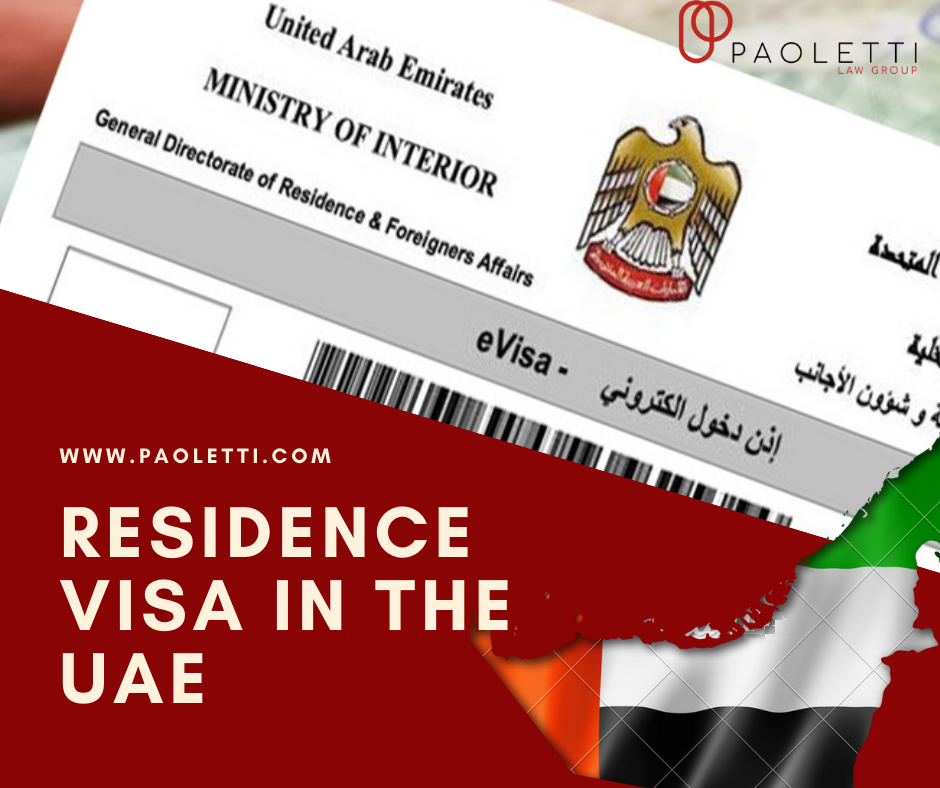 The United Arab Emirates (UAE) provides resident visa to an individual and his/her dependents if he/she (1) is employed by a company, (2) is employed in the government sector (3) has invested in a business (4) has a property, in the UAE. Additionally, university sponsored students and elderly foreigners who want to retire and reside in the UAE are also given residence visas. 
A foreigner needs a relevant entry permit to enter the country after which his/her sponsor has to apply for the residence visa within 60 days after completing the necessary formalities. Every foreigner has to comply with the mandatory health checkup. The visa application has to be applied at the office of General Directorate of Residency and Foreigners Affairs (GDRFA) of the respective Emirate. GDRFA is responsible for approving your residence visa and providing you with a UAE Resident Identity Card valid for the visa period and affixing visa stamp on the passport.
An investor will have to sponsor his/her investment visa on his/her own accord. Property owner's visa will be sponsored under the property name that he/she owns. Visa for dependents has to be sponsored by the person who has residence visa in one of the above stated categories. Dependents include children, parents, maids and close relatives of the resident visa holder.
Having a residence visa of the UAE enables you to open a bank account, access financial facilities, apply for a driver's license, access government health services and health insurance, register one's children in schools and includes several other perks not available to a non-resident.  
The visa period granted varies according to its type, for instance work visa usually is given for the period of 1-3 years. Retirement visa and Investment visa can be granted for periods of 5 and 10 years, respectively. Renewal of visa can be done within 30 days after the expiration of the visa. As a general rule the residence visa lapses if the person stays out of the UAE for more than six months continuously.
In 2019, the UAE offered an option of Golden Visa to foreigners enabling them to live, work and study in the UAE without the need of a national sponsor and with 100 per cent ownership of their business on the UAE's mainland. The duration of the visa will be 5 and 10 years and will be renewed automatically. Golden Visa will be granted to a specified group of individuals which includes investors, entrepreneurs, individuals with exceptional talents, researchers, medical professionals and those within the fields of science and knowledge, and outstanding students.
To know more about Residence Visa in the UAE, please contact: